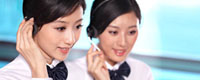 Name: mr.wong
Tel: +86-13989716979
Mobile: +86-15858859109
E-mail: [email protected]
Add: ruian,China
Skype: [email protected]



Company News
>> Anhui police release AR smart police glasses (photo)
Criminals and criminal suspects can be easily identified from a distance of 10 meters by wearing AR smart police glasses, whether they are in public places such as airports, stations and shopping malls or hiding in some "dark" corners.Recently, a press conference for the new generation of AR smart police glasses was held in hefei, anhui province. The public security bureau of maanshan city and the public security bureau of suzhou city jointly developed the new generation of AR smart police glasses.
Anhui police release AR smart police glasses (photo)
It is reported that the ministry of public security in the public security science and technology innovation "13th five-year plan" put forward the police technology and equipment intelligent, data, networking, integration, mobile requirements.The release of the AR intelligent police glasses built-in high-definition camera, intelligent speech recognition and intercom system, law enforcement can be recorded after connected to the Internet, voice broadcast becomes an organic whole repeatedly, image recognition and so on, can not only through the speech recognition man-machine exchange, also can through own action system to realize 3 d gesture recognition, and fast face recognition, license plate recognition and all kinds of code services, improve the efficiency of the police.
At present, AR smart police glasses have been on trial in xinjiang, gansu, yunnan and other provinces, experiencing more than thousands of people, through AR smart police glasses seized a number of fake id CARDS, theft and other cases, and identified and captured a number of drug abuse, robbery and other criminal suspects.